Arnold Abbottt, Activist for Feeding Homeless, Goes to Washington
---
---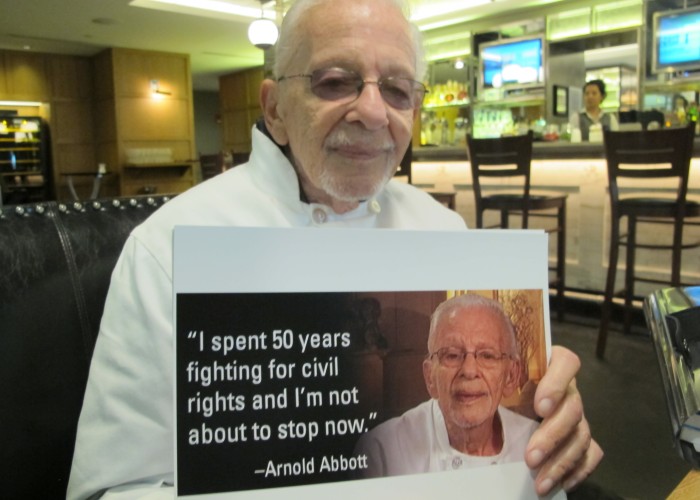 Arnold Abbott, Florida advocate for the homeless, has scheduled a trip to Washington this week with other activists from Broward to bring their campaign against unfair laws targeting public feedings to lawmakers.
The publisher of Homeless Voice, Sean Cononie, and Mr. Abbott have plans to convene with Washington lawmakers and to go to an annual memorial service that is sponsored by the National Coalition for the Homeless that honors the homeless who have died this year. The memorial service is set to start on Friday at noon. The event takes place at New York Avenue Presbyterian Church.
On Monday, Abbott stated that he wishes to gather more information about the national situation that involves the homeless, as well as gaining new insight into steps that can improve the homeless situation in South Florida. Abbott stated that he hopes to "learn from the experience".
While Mr. Abbott is visiting Washington, Michael Stoops, the director of community organizing for the National Coalition for the Homeless, will award the 90 year old the honor of Advocate of the Year, which is given in conjunction with the Congressional Hunger Center.
According to Stoops, Arnold is the most well-known advocate in the nation, and what has been happening in Fort Lauderdale will enable him to create a new take on the fact that the homeless in America are dying from preventable circumstances.
Since 2007, according to Stoops, there have been 70 cities that have enacted laws that are designed to regulate efforts to share food, as Mr. Abbott has done with his Love Thy Neighbor foundation since 1991.
Lawmakers in Fort Lauderdale passed an ordinance in October that placed new restrictions on public feedings of the homeless. According to the law, there are permitted zoning locations and food distributors must set up portable toilets in the absence of bathrooms. Feedings cannot be conducted within 500 feet of residential neighborhoods and the food has to be heated properly.
In November, Mr. Abbott received a criminal citation for giving out food at Stranahan Park.
Because of the media's coverage of the citation, with the possibility of jail time of 60 days or a $500 fine for the World War II veteran, the event went viral.
With Mr. Abbott receiving three more citations for feeding the homeless on the beach, attorney John David filed a motion on November 12, asking that the courts enforce the injunction of 2001 that allowed feedings on the beach that is in a picnic area that gives access to public bathrooms.
A Broward judge issued an order on December 2, for the city to stop enforcing the law temporarily. All parties were ordered by Judge Thomas Lynch to spend a 30-day period in mediation. According to Mr. Abbott, that mediation has not yet occurred.
Mr. Abbott is scheduled to speak in Washington at a rally at Freedom Plaza on Thursday night, at which time; he will be involved in passing out food to the homeless, according to Stoops.
According to Mr. Abbott, he will oversee his normal 5:30 homeless feeding on a Ft Lauderdale beach before leaving for Washington on Wednesday.
---
---