Why I left the City of Hollywood
---
---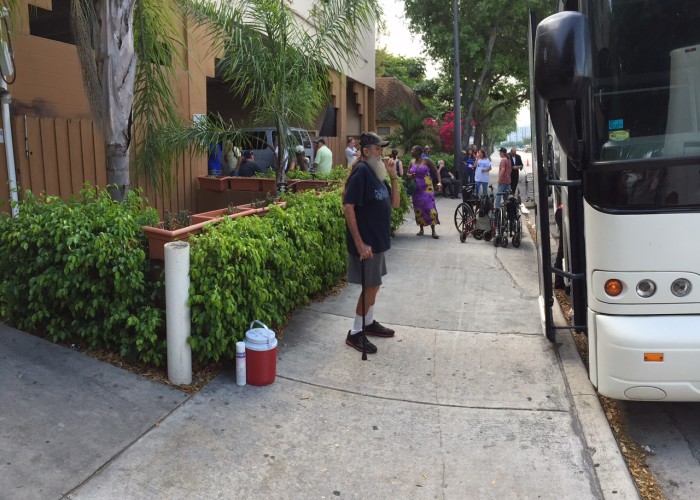 Why did Sean Cononie leave Hollywood?
First I must stress the fact that the Fire Department and its medics as well as the police did a great job with our agency.  In most cases they were there in  a flash.  But somewhere along the line something went wrong with me sending warnings to the administration if we had a bad flu season or when we had the Norovirus.
On one occasion Memorial Hospital was on lock down because they thought they had a case of Small Pox.  When I heard this, I called the intake office and asked if we got anyone in from Memorial in the last hour. We did.  From that I locked down our shelter and quarantined it.  I told staff to not let anyone in and no one out not even staff that was inside.  I too stayed in doors because I had contact with the man to medically check him in. I knew I had a responsibility if Memorial had a case of small pox and was on lock down and we just got someone from them I had to make sure that if our new arrival was exposed to small pox I had to contain it in fear of spreading a bad disease in a matter of minutes to people who lived close by the shelter.
Then the roomers started that we had small pox, of course no one saw the live breaking news at memorial and a possible small pox outbreak.  I always said to myself that it was my job to prevent any medics or police officers coming in to take something back home to their loving family.  The city commission took those safety precautions and just assumed we were a building of live germs.  I really did care abut the first responders entering our building.
Even when I helped plan the Bird Flu Policy (Pandemic Policy) for the county on its task force one of the things I came up with was to adopt a first responders family at the time of a pandemic so the public safety worker could continue to work if his family member was sick. We all saw from Hurricane Katrina where many members of the public safety units left to take cover themselves. I cant say I blame them.  But when you adopt a family member of the police or EMS system it brings them a retired nurse to take care of their families so they can continue to save lives.
So what went wrong?  The commission decided to come up with policy that the EMS workers could not come in to our shelter and that meant we had to drag a sick and unconscious person on a mat from upstairs, to the elevator, to the downstairs, then through the downstairs hallway and then to the frot lobby and finally out the door and at the same time continue to do CPR on the sick homeless person.
We had enough where we almost lost someone because it took us almost 7 minutes to drag them downstairs while the medics sat outside. This was wrong, dead wrong. I could not understand it, they work traumas blood going everywhere, they handle people who have AIDS, HEP C, TB, and go into peoples sick homes who might have a case of bacterial meningitis. Then they transport that person and still in the back of the rig blood goes all over the place.  Finally they go to the ER where germs await but for us, our little elderly homeless people were treated as if they were lepers.
There is a reason EMS has lights and sirens and can drive fast… That is because time matters when someone is sick.  For us to have to drag a dying person to a waiting ambulance should have never occurred.  Not all the medics waited outside, many came in and did a fine job.  But there was a few who did what the city commission told them to do.  There is not one expert anywhere in the world that would agree with this city commissioners policy.
The city commission was proud of it as well.  They boasted in a live workshop meeting that the germs are so bad they informed their medics they cant go in to our shelter.  The funny part is over the years we have had at least 200 separate reporters in our place and they came in with no mask, no gown no nothing to protect them.    We know why the city did this because they wanted us to move. They set an example by using the fire department and those hard working souls.
They took a job to save peoples life's and you could tell just by the comments that were made to me from some of them that they did not think it was correct. One even said to me, this person, this homeless person , this is my patient and I dont care what diseases they have if they have any ..they will be treated just like the people I treat elsewhere.
There were some other reasons why I left Hollywood and progress of the down town area was one of those reasons. We knew it would be better for the down town area to redevelop if a Homeless shelters was not present.
---
---