Category: Uncategorized
---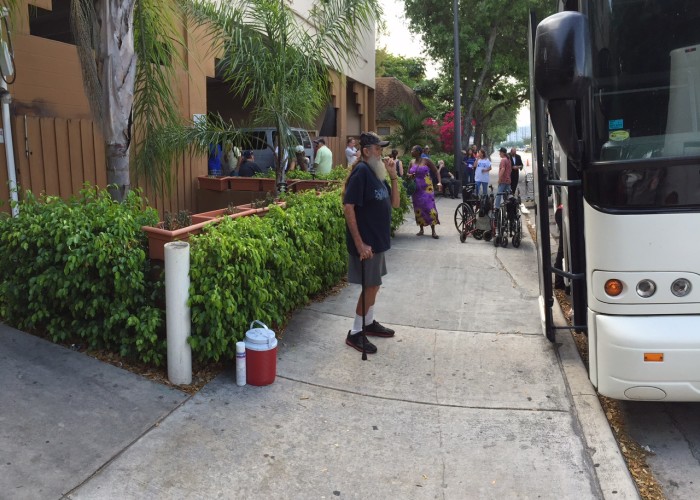 Why did Sean Cononie leave Hollywood?
First I must stress the fact that the Fire Department and its medics as well as the police did a great job with our agency.  In most cases they were there in  a flash.  But somewhere along the line something went wrong with me sending warnings to the administration if we had a bad flu season or when we had the Norovirus.
On one occasion Memorial Hospital was on lock down because they thought they had a case of Small Pox.  When I heard this, I called the intake office and asked if we got anyone in from Memorial in the last hour. We did.  From that I locked down our shelter and quarantined it.  I told staff to not let anyone in and no one out not even staff that was inside.  I too stayed … Read More »
---
Arnold Abbot, a 91-year-old activist who feeds the homeless in Fort Lauderdale, traveled to Washington, DC to receive an award in recognition for his work in providing meals for the homeless. He has been working to reverse an ordinance instituted in Fort Lauderdale, which places restrictions on where the homeless may be fed within city limits.
While defying the ordinance and being fined repeatedly, Abbot has spoken out about it and has even sued the city to have the ordinance repealed; after putting the ordinance on hold, a judge ruled Thursday that the hold would be lifted and the ordinance would again be implemented by law enforcement. Ironically, this judgment came while Abbot was in DC being recognized by a national advocacy organization for the homeless.
During his visit to the capital, Abbot continued to advocate for the homeless, insisting … Read More »
---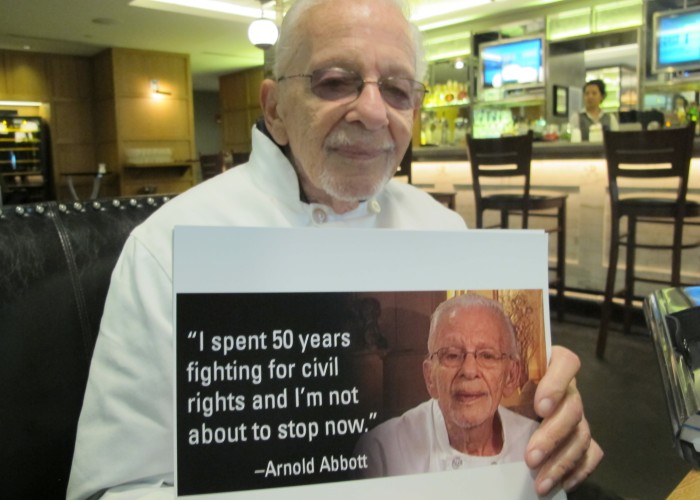 Arnold Abbott, Florida advocate for the homeless, has scheduled a trip to Washington this week with other activists from Broward to bring their campaign against unfair laws targeting public feedings to lawmakers.
The publisher of Homeless Voice, Sean Cononie, and Mr. Abbott have plans to convene with Washington lawmakers and to go to an annual memorial service that is sponsored by the National Coalition for the Homeless that honors the homeless who have died this year. The memorial service is set to start on Friday at noon. The event takes place at New York Avenue Presbyterian Church.
On Monday, Abbott stated that he wishes to gather more information about the national situation that involves the homeless, as well as gaining new insight into steps that can improve the homeless situation in South Florida. Abbott stated that he hopes to "learn from the … Read More »
---
Sean Cononie helps the homeless as if it were his own family. The City of Fort Lauderdale is trying to make certain activities that help the homeless illegal.
Normally feeding a person is a great act of kindness, until now. If you feed the homeless in the city of Fort Lauderdale, Mayor Jack Seiler says that you are breaking the law and that you will be issued fines and serve possible jail time.
Sean Cononie says that there are currently 27 other cities across the United States that are making similar laws to criminalize homelessness.
Arnold Abbott has been feeding the homeless for 23 years and has decided to challenge the new laws.
UPDATE: On December 2nd, 2014, Judge Thomas Lynch has ordered the city to temporarily stop enforcing the law and told all sides to enter into a 30 day mediation. At … Read More »
---
or Maybe We Should Be Happy We Got Our First Case
I was one of the people who took President Bush serious when he said that any community that at the time of a Bird Flu or a pandemic that expects the Federal Calvary to come and rescue them, that, that community would be set for pure tragedy. That scared the daylight out of me. What he meant is that no country can be prepared for a pandemic and that the only way to really be prepared is to have your own personal plan. Let me explain it like this, during the Spanish Flu pandemic in 1918 we lost anywhere from 40 to 100 million people who died from the flu. How could we as a country service that many people who were sick? We can't, and … Read More »
---
A homeless 63-year old woman was beaten up today (9/29/2014) and her backpack was stolen?
At about 6:30 on a warm Hollywood Beach evening, just off A1A at an Intracoastal Park, Linda Lambert was waiting for a bus. Just like every day, she took the bus along the beach road in the evening.
Linda is one of a growing group of seniors who are homeless in this economy and, and she currently lives at the Homeless Voice Shelter on Federal Highway in Hollywood Florida. She has lived on and off the streets for over a decade.
Taking the bus was a normal daily routine, with no trouble. Until Friday night, her backpack made her a target. An old backpack without much in it (except some socks, jumbles of paper and a water bottle) was stolen from her.
Linda sat down and waited for … Read More »
---
As we have come to know that homeless shelters can attract people who are wanted for serious crimes. The Homeless Voice had one of these dangerous sex offenders living in one of our homes in Hollywood.
It just goes to show you, the system has failed and it is difficult to know everyone we house. This man did not come up in any of our routine sex offender searches. When someone checks into our shelter, we perform a background check. If they are not registered and are a sex offender we then alert Hollywood Police Department.
The Marshals told us that there was someone living with us who had not registered in over 10 years. Since he was living near small children we also did our own investigation and kept an extra eye on him. We also notified HPD that we were … Read More »
---
The Homeless Voice, is a newspaper that funds South Florida's largest emergency homeless shelter. The shelter is now in fear it may have to put a stop to several services they offer as some cities are making harder for the newspaper to be sold. Dozens of men, women and children who rely on the shelters in operated by The Homeless Voice for a place to stay could find themselves back out on the street.
NBC Miami recently released a publication and news article covering the subject. The community is trying to work together as a unit to keep the newspaper running and published. "We can't operate an emergency-level shelter without the paper," said Sean Cononie, a homeless spokesperson and founder of the Homeless Voice.
For several years, the Homeless Voice sold its newspapers in high-traffic areas throughout Broward County; but says … Read More »
---
Sun Sentinel
Florida leads nation in study of violence against homeless
By Wayne K. Roustan, Sun Sentinel
10:32 AM EST, December 18, 2013
advertisement
Florida ranks first in the nation, again, as the most dangerous place for the homeless to live, according to the 2012 Homeless Hate Crimes report.
The National Coalition for the Homeless has tracked violence against homeless people across the country since 1999. Homeless-on-homeless attacks are not included in the findings.
Florida has led the nation all but once between 2005 and 2012, statistics show.
Florida had 15 reported attacks against the homeless last year, more than double the incidents in second-ranked California. Two of those 15 attacks were deadly; both were in South Florida.
On Dec. 1, 2012, Bradley Suessine, 42, was stabbed to death with a butcher knife behind a restaurant in Deerfield Beach. John Stabile, 23, confessed to killing the homeless man and awaits … Read More »
---
This homeless mans oxygen was at 73 percent when we got to him.   This was very critical.  It was important for us to get his oxygen up as much as possible before EMS arrived.   We finally got his Oxygen up to 95 percent.    Our in house medics are our homeless people who took a first respondor course to be able to use oxygen , aed's and other life saving medical equipment.  We have saved many people with our yearly training.    We also do in house trianing.  So far we are ab0out  4 of 7 saves with AED's and on overdoses we have saved about  20 people over the years by having the proper training.  When most people think the homeless are worthless bums look at these homeless people save a mans life.  Way to go Homeless.  You think this is … Read More »
---